Are you looking forward to staying in HaparandaTornio? Here we have listed different accommodation options for you!
Hotels
If you are looking forward to staying in a hotel in the area, we have plenty of options!
The historical Stadshotel in Haparanda offers luxurious accommodation in the middle of the city. The grand building was built in 1900 and you can feel the atmosphere of old times through the hotel and the restaurant located next to it.
On the other side of the river, you can find several hotels in just one street. Through streets from Hallituskatu to Itäranta, you come across Mustaparta Boutique hotel and Grand hotel, Hotel Olof and Park Hotel. You'll also find restaurants in all the hotels except the Grand hotel.
Mustaparta Boutique hotel is an atmospheric and sea-inspired hotel, which has been influenced by the pirate Blackbeard. The hotel's name Mustaparta is a direct translation meaning Blackbeard. Mustaparta also has another hotel called Grand hotel, located in an old, grand brick building across the street. The building has a long history behind it and you can clearly see it through the corridors and rooms. Golden details, giant mirrors and vintage pictures give the hotel a luxurious and grand atmosphere.
Hotel Olof is a high-quality boutique hotel with a river view located in the core of Tornio. The hotel has a fresh and modern vibe and many windows have a gorgeous river view in them. In the hotel there is a high-quality restaurant as well which reserves local delicacies.
Same type of modern vibe is in the Park Hotel. The hotel building has the longest hotel history in Tornio and previously a City Hotel operated in the same space. Park Hotel is also right next to the Torne River and it is a short distance from activity center Lappari.
If you are looking forward to even more relaxing accommodation, we recommend you to head to the Spa and Hotel in Sweden's easternmost point, Cape East. The hotel is beautifully located with a view of the Torne River and close to nature. In winter, the landscape is nestled in white snow and on cold evenings you can see the magical northern lights with all their colors. In summer, the sun shines around the clock. Cape East resort is offering modern accommodation and a warm atmosphere.
Stadshotel: Torget 7, 953 31 Haparanda, Sweden
Mustaparta Hotel: Hallituskatu 6, 95400 Tornio, Finland
Hotel Olof: Hallituskatu 16, 95400 Tornio, Finland
Park Hotel: Itäranta 4, 95400 Tornio, Finland
Cape East Hotel & Spa: Sundholmen 1, 953 33 Haparanda, Sweden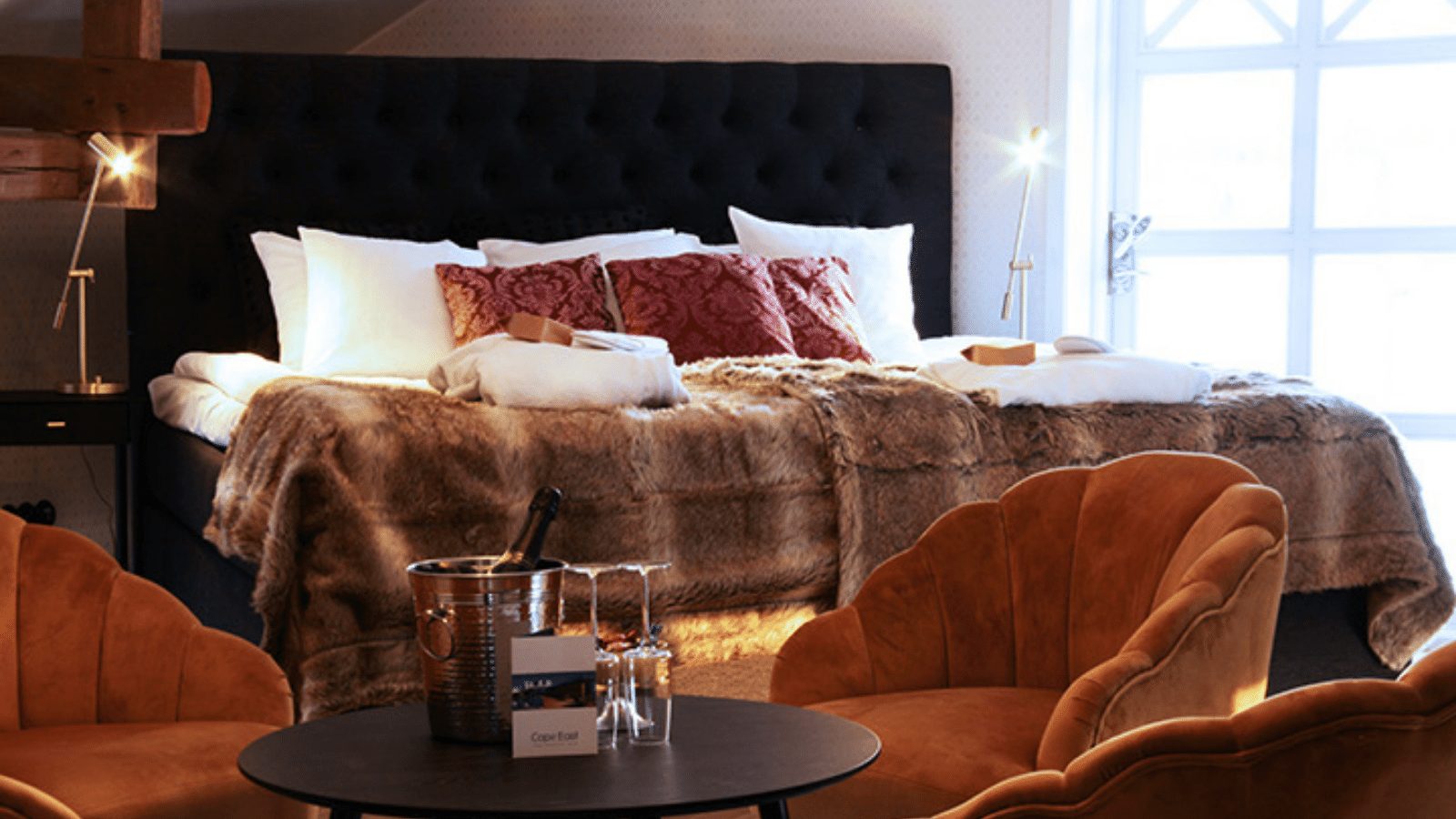 Camping
Have you ever thought about staying in the middle of HaparandaTornio with your camper van? River Motel is located right by the river. Apart from camping, they also have affordable hostel rooms with a shared kitchen for all travelers. 
Seskarö island is a popular destination in our archipelago during summer. Seskarö Havsbad offers not only camping spots for tents and vehicles but also cabins for rent. There are just so many activities for guests to explore the island rather than only lying on the beach. Kayak, MTB, padel, mini golf, disc golf…you name it! Perfect location for you who wants to stay near the sea.
You can also spend summer days at the campsite of Tornio Camping, lazing on the soft grass or taking a dip in the fresh river water, or even rent a canoe and go paddling on the scenic river. There is also a swimming pool open from midsummer to the end of August. For a small fee, you can enjoy the sunshine while swimming or lounging on the sunbeds in the pool area. In the pool bar you can enjoy refreshing drinks, ice cream or a small salty bite. For children, there is a large playground with several trampolines. You can rent mopeds at the reception. In the evening, it's nice to take a sauna in the public saunas of the maintenance building, which are freely available to everyone staying in the area, or rent a sauna on the river.
Also, hotels such as Kukkolaforsen and Cape East pride camping spots. Those can be alternatives for you too while you are visiting HaparandaTornio. New camping spot is also by the sea in Toranda Event center on Finnish side.
River Motel & Camping: Strandgatan 18, 953 31 Haparanda, Sweden
Seskarö Havsbad: Tromsöviken, 953 94 Seskarö, Sweden
Camping Tornio: Matkailijantie, 95470 Tornio, Finland
Toranda Event Center: Hellälä, Näätsaarentie 241, 95450 Tornio, Finland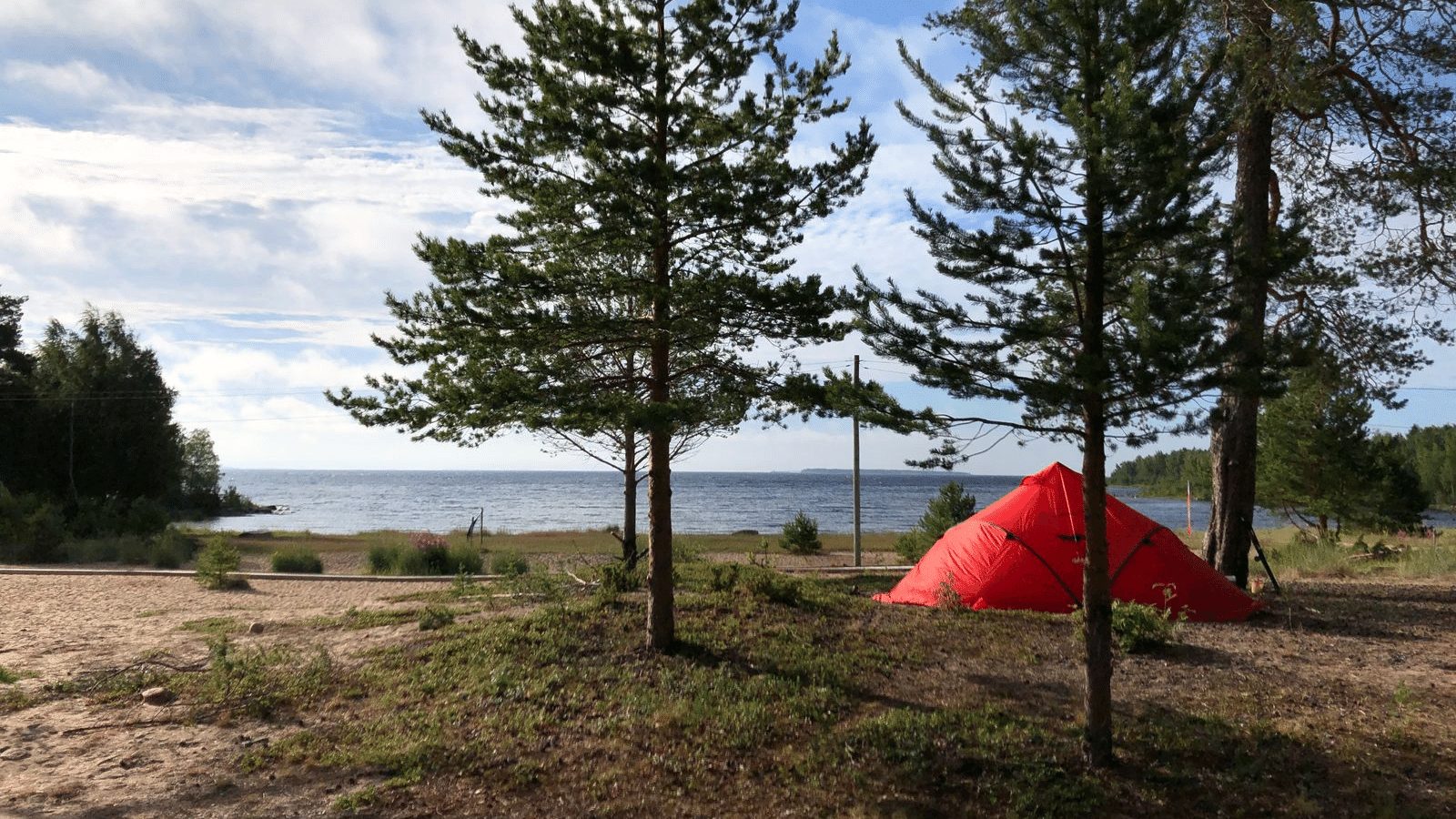 Wild Camping
Thanks to the freedom to roam in both Sweden and Finland. We have the right to perform outdoor activities as long as we don't harm the environment or disturb others by camping close to a private home. You might not be able to make an open fire without permission if it's on a private property. Also bear in mind that, you can't pitch your tent wherever you want. Take Haparanda Archipelago National Park for example, you can pitch a tent and make fires ONLY in designated spots. You are free to pick berries or fish there if you'd like though. Plus we have many lakes in Haparanda and Tornio. Come here on a hiking trip and camp in the middle of the forest for free this summer!
Lodges
Nivagården is located in the small village of Korpikylä, 37 km north of Haparanda. There are three houses Esters Hus, Härbret and Kalles Hus for rent. Härbret used to be the wooden storage barn for barley right next to the Torne River. Today it's converted into a two story house where the bedroom is on the top floor with a great view of the river. Kalles Hus and Ester Hus are much more spacious, they would be perfect for you if you come with a big group of friends or with your family. Kalles Hus is even decorated with many pieces of furniture from the old time. You can truly experience the country vibe in the house. At Nivagården, we recommend you rent a SUP and paddle in the river, guests also have access to a sauna and plunge pool with different prices. 
There's another farm lodge, Hulkoffgården with a shop and restaurant that is listed in the Swedish restaurant guide White Guide. The farm's history can be traced back to the 18th century. They have beautiful fjäll cattles and reindeers in the farm. Are you a fishing lover? Fish salmon in Matkakoski and stay by the Torne River in the summer. You should definitely put both of them on your list. 
In Kukkolaforsen you'll find hotel-like lodges next to the restaurant. The lodges are located in a beautiful location along the Tornionjoki river and all cabins have a view of Kukkolankoski and the Finnish side.
In Camping Tornio you'll also find red lodges next to the camping site. The lodges are only open during the summer time, but camping is possible around the year.
Nivagården: Korpikylä 224, 953 93 Karungi, Sweden
Hulkoffgården: Korpikylä 197, 953 93 Karungi, Sweden
Kukkolaforsen: Kukkolaforsen 184, 953 91 Haparadna, Sweden
Camping Tornio: Matkailijantie, 95470 Tornio, Finland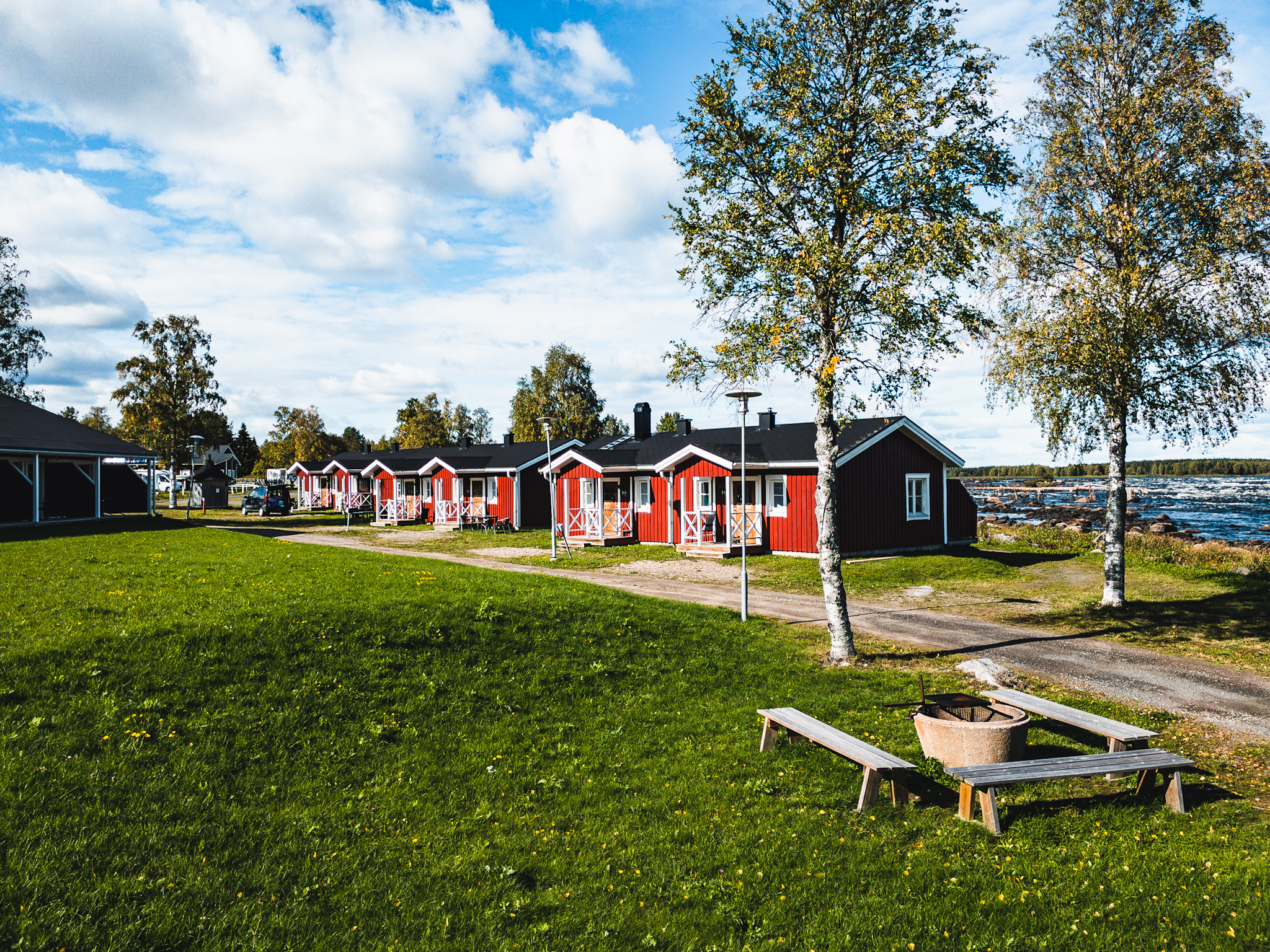 Hostels, motels & Airbnb
Svefi Folk High School provides not only varied art and design programs but also affordable accommodations for students and tourists. The reception is located in the yellow building at the square Torget, right next to Stadshotellet. The hostel building is also situated at the same square but on the opposite side. Please note that breakfast is only served during weekdays.  It's a 15 minutes walk to both Haparanda-Tornio Resecentrum and Haparanda Railway Station. Torne River is only a short distance away. It's nice to walk along the river bank during summer.
Motel Tornio is a small affordable self-service motel, which was built on the premises of Tornio's old fire station. The shops, restaurants and services of Putaa and Torpi neighborhoods are only a short walk away.
Also the River Motel has affordable hostel rooms with a shared kitchen for all travelers right beside the Torne river.
Airbnb is also an affordable option for accommodation. HaparandaTornio is filled with Airbnb apartments, there are lodges and city apartments you can choose, just click yourself to the site and find your kind of place.
Svefi Hostel: Torget 3, 953 32 Haparanda, Sweden
Motel Tornio: Kemintie 26, 95420 Tornio, Finland
River Motel & Camping:Strandgatan 18, 953 31 Haparanda, Sweden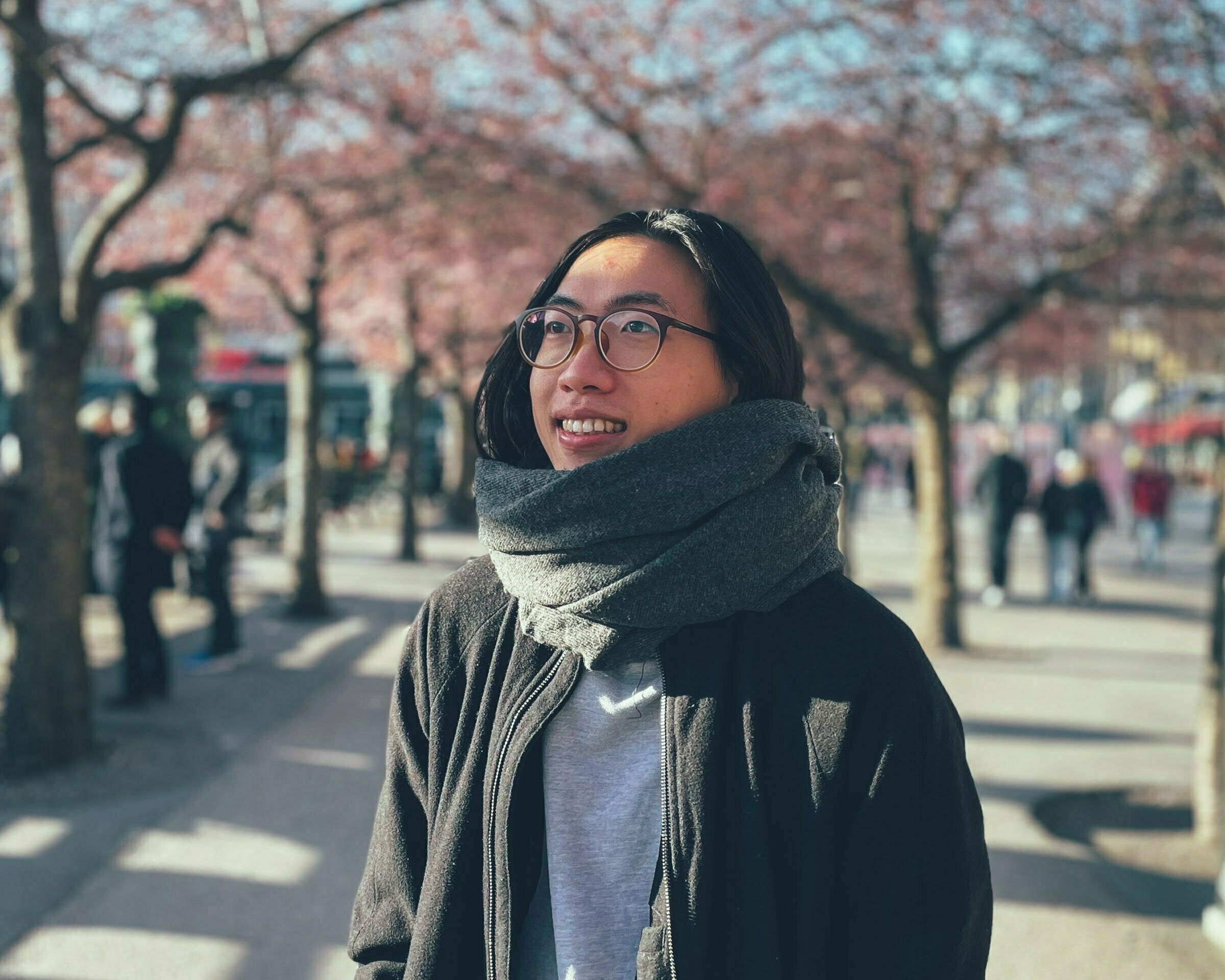 Jojjo
HaparandaTornio Ambassador
Jojjo is a yogi, traveler and a creative soul who enjoys most in nature and doing outdoor activities. Jojjo was a social media ambassador for HaparandaTornio in 2021-2022.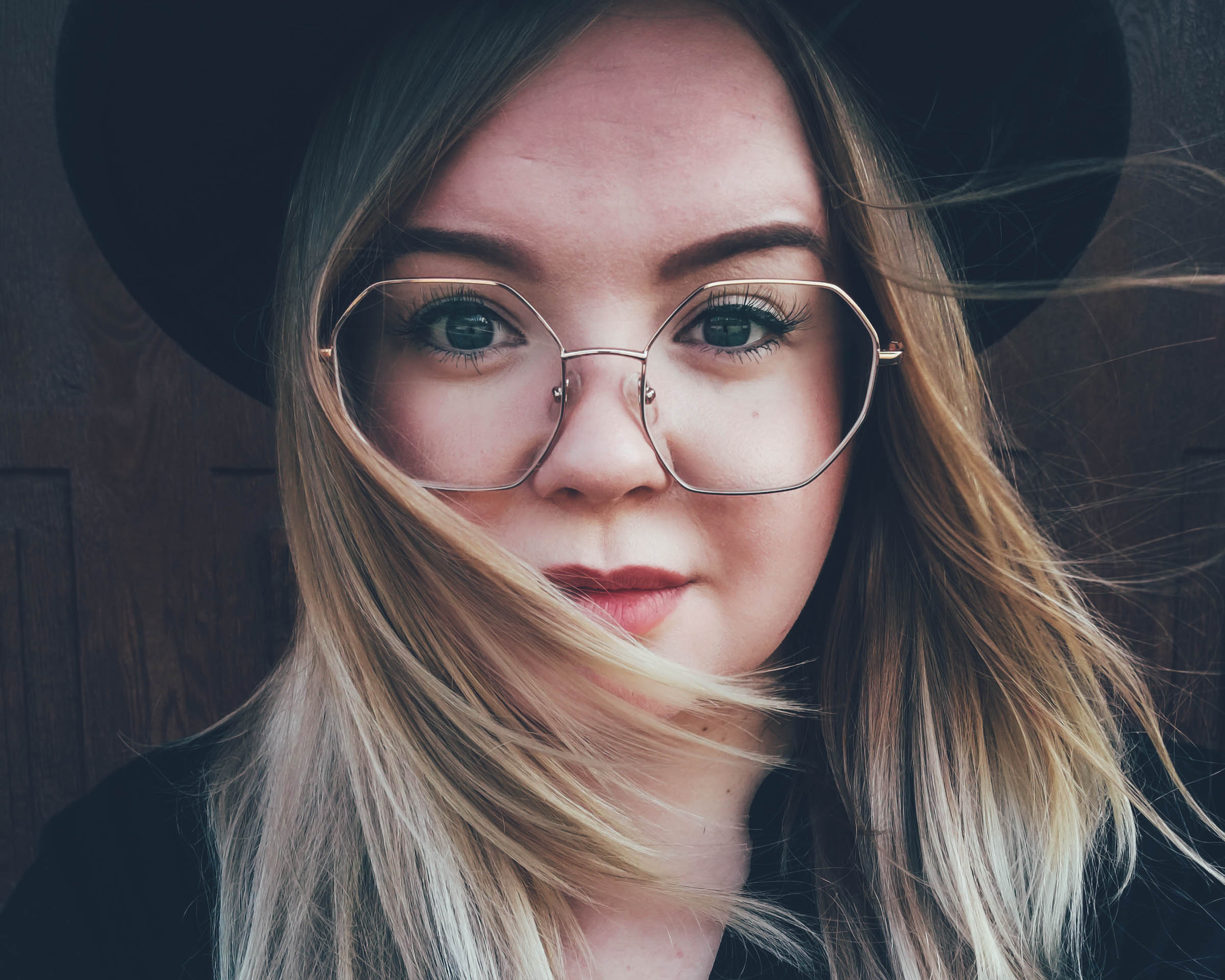 Mia
HaparandaTornio Ambassador
Mia is a designer, photographer and big time dreamer, who's born and raised in Tornio. Mia was a social media ambassador for HaparandaTornio in 2021-2022.