Skiing and Tobogganing
The place to encounter locals from February to April is the cross country ski tracks. Skiing might look easy but for the first timers even staying upright can be a challenge. You can give it a go by yourself or rent a Finn to teach you. Nordic Safaris is recommended for this. If you just want to watch the locals in action, follow them down to the tracks – but whatever you do, don't walk on them. We might be shy, but if you're in the way or trampling the tracks, we'll let you know!
Sledding is great fun, and can be enjoyed almost anywhere in Lapland. Local families enjoy their days off together outdoors and tobogganing is one way of their favourite activities.
There is a Husky park one hour drive away from HaparandaTornio. Check out Old Pine Husky on Instagram.
If you already feel like a skiing pro and are looking for longer trails, head to Riekkola in Haparanda. Beautiful nature enhances the experience. Riekkola-Välivaara Nature Park has illuminated trails of different sizes: 2.2 km, 3 km and 5 km. On the other side of the national border, Tornio also has a good trail network, with several illuminated tracks, the closest to the city centre being Kokkokangas and Puuluoto.
On the frozen sea ice
The sea freezes over during the winter months creating a fun and utterly unique location for outdoor activities. At the start of the winter, before there is too much snow cover, you can even ice skate on the frozen sea. Skiing is more common as it's possible even if there's snow. With the return of the sun after the long hours of darkness of midwinter, locals spend as much of their free time outdoors as possible, particularly on ski tracks on the frozen sea. Head out and join them, even if just for a walk, but don't forget your sunglasses. The bright sun is particularly dazzling when reflected by snow and ice. Our arctic archipelago can also be explored by snowmobiles. We recommend booking a tour with a local safari company. Check the details with Nordic Safaris or Innala Archipelago.
On the frozen river
The sea and river are frozen for almost half of the year so there is plenty of time to enjoy the coolest experiences! Ice fishing is loved by locals and we recommend that you try it too. Torne river is the longest free flowing river in Europe and rich in fish, even during the winter. "You can find your zen", as the locals might say, by drilling a small hole in the ice and sitting by it whilst dangling a toy-sized rod into the frigid water. This activity is not all about the catch, but if you really want fish for dinner, you can try hiring a professional to help you.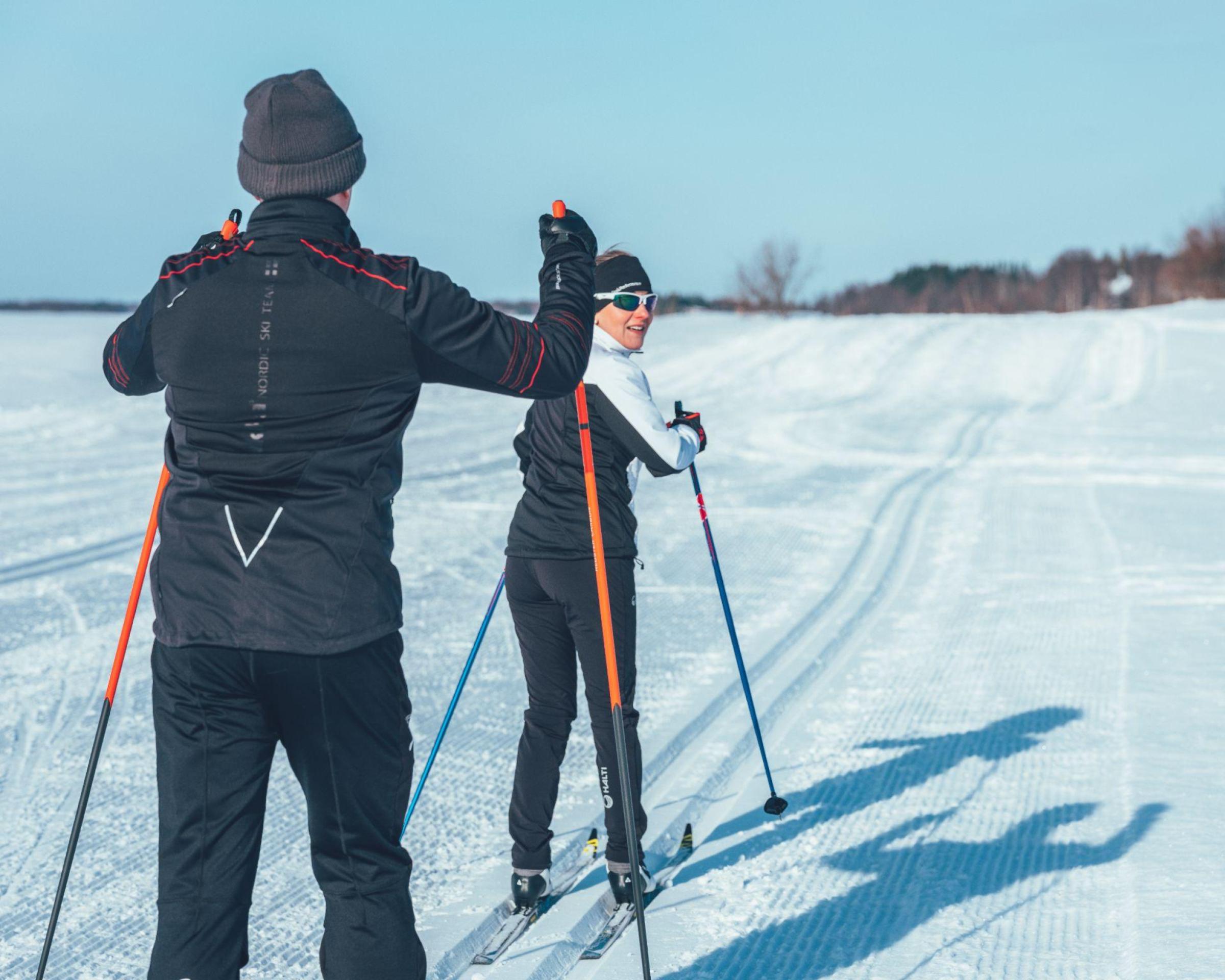 Ice Swimming
To experience the wonder of winter, you don't have to stay out for very long. Just taking a dip in an icy lake or river can be enough to get your blood flowing. In Tornio city centre there is a jetty leading to a hole in the ice made especially for this. There are plenty of health benefits. It boosts your immune system, burns calories and reduces stress. It gives you a natural high. Wear a warm hat and swimsuit, and maybe bring a local with you, just in case. Short video of how it is done. Or check out how Rachel Davies pushes her limits.
"It is the only time when you are really living in the moment"
Winter walk in the twin-city
There are not many places in the world where you can be taking a walk and without noticing, experience two countries at once. Unfortunately, during the current pandemic, this isn't possible, but for the time being we can still enjoy the city centres separately. They are both small, cozy and quiet. During the Christmas season lights decorate the city centres beautifully, and you explore the cute local shops. And whether in Sweden or Finland, there's nothing that beats warming up in a cosy café after a walk on a crisp winter day.