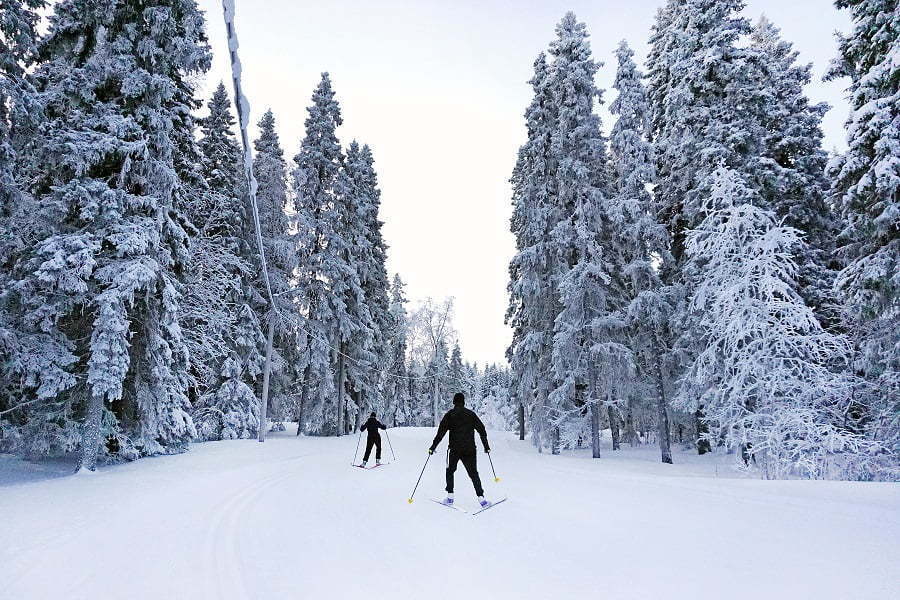 Tornio
There are good possibilities for cross-country skiing in Tornio. In the springtime, you can enjoy sun and perfect weather by skiing on the ice of the Bothnian Gulf and the Torne river.
Near downtown there are two illuminated ski tracks in Kokkokangas and Puuluoto.
Kokkokangas ski track is 3,3 km long and there is parking: Kokkokankaantie or Saumaajankatu.
In Puuluoto there is a 5 km long ski track. Parking: Ruonajärventie 172, 95420, Tornio
There are several illuminated and day light ski tracks in Tornio. You can find them in the home page of Tornio.

Haparanda
The Riekkola-Välivaara nature reserve offers several illuminated ski tracks of different lengths: 2,2 km, 3 km, and 5 km. The nature reserve is situated 2 km from Haparanda town.
Cottage rentals in Riekkola:
Upper cottage with a meeting room. Reservations: Aspen +46 922-260 84
Lower cottage with a changing room, a sauna, and a meeting room. Reservations with HSKT skidor +46 70-570 49 38
Downhill skiing can be done at the Tossabacken ski resort. More info is available in Tossabackens facebook page
Illuminated ski tracks:
Kukkola 3 km and 5 km daylight ski trail
Seskarö 1,5 km
Nikkala 3 km
Lappträsk 3 km and 5 km daylight ski trail
Tossa Backen
Children's ski slope and sledge. Food, warm cottage, barbecue area and 2 lifts.
Saturday & Sunday – 11-15:00
Located in Karungi in the direction of Lappträsk.
Fritidsbanken
You can borrow skiing equipment at Fritidsbanken.
Tel. +46 922 268 79. Open Mon-Fri 7.00 – 20.00. Åkergatan 1, 953 34 Haparanda
---
Website (URL): https://www.tornio.fi/kulttuuri-ja-vapaa-aika/liikunta/ulkoliikuntapaikat/kuntopolut-ja-hiihtoladut/