10 Interesting Facts About HaparantaTornio's History
1. Our own language and Meänmaa
In Torne river, we have our own dialect called Meänkieli (eng. "our language") and it has minority language status In Sweden. In the Swedish side the area where the dialect is spoken is also called Meänmaa where "meänkieli" is most spoken. Here people have their own flag and own national day. Meänkieli is a wonderful mix of Finnish and Swedish. Meänkieli developed after Finland was annexed to Russia in 1809. At that time, the border was not drawn to the external language border between Finland and Sweden, but part of the Finnish-speaking area remained in Norrbotten, Sweden. 
Before the 1970s, Finns in Norrbotten did not yet have their own written language, and almost no one considered the language they spoke other than Finnish with the twist.
It was not until 1 of April in 2000, a law came into force, that five towns in Norrbotten (Haparanda, Kiruna, Jällivaara, Pajala and Ylitornio) may use both Finnish and Meänkieli to deal with the authorities and the courts and have the right to receive education and treatment in these languages.
Meänkieli might sound a lot like Finnish, but it lacks some of the characteristics of the Finnish literary language and there are more fresh Swedish loanwords than in the western dialects of Finland. There are also Sámi loanwords in Meänkieli. The use of Meänkieli among young people has unfortunately decreased, but there are still many words that even young people in HaparandaTornio area use everyday!
Want to hear a sample? Check out the local reggae band Meänland, they sing in Meänkieli!
2. King Charles XI and the midnight sun – the story of Tornio Church tower
In the spring of 1694, word spread in Tornio that the King Charles XI of Sweden, was planning a tour of his kingdom. The intention was also to visit Tornio, the northernmost city in the country and to watch the midnight sun.
The visit was prepared as well as it could be, as it was the first time the Swedish ruler had visited our city. It was feared that the king would criticize the city, for it had not been built as handsome as the ordinances required. Residents were strongly urged to repair their houses and keep the streets clean. Great care was also taken to ensure that the ruler could be offered meals and wines appropriate to his value.
The midnight sun was to be watched from the Tornio's church tower. However, shortly before midnight, a cloud flew in front of the sun, and the midnight sun was not seen at that time. The king wanted to return the following year, and for that purpose a taller tower and round "king's windows" were built in the tower to make the sun more visible. However, the king died before he could see the midnight sun.
3. Lapland's Gold Rush and Beer
The Gold Rush started in Finnish Lapland in the 1870s. Many Finns traveled here to work in the gold mine. The Tornio Brewery was established then under the name Torneå Bryggeri Aktiebolag at that time and it was one of the oldest industrial operations in Finnish Lapland. The gold rush continued and the population grew rapidly until the 60s. The brewery manager Irma Stormbom and her German brewery master Hermann Krüger started a new brand Lapin Kulta, literally meaning "Lapland's Gold". The company was sold to Hartwall in the 80s and the production in Tornio was closed in 2009. However a few years later, a former developer turned brew master Kaj Kostiander took over this place and he started a new brand Tornion Panimo. They are not only producing cold refreshing beers but also long drinks.
Tornion Panimo Shop: Vesaisenkatu 1, 95400 Tornio, Finland
4. Local wizard
There is an old legend of a local wizard, a farmer named Iisak Pistokoski (1841-1902). The old stories named Iisak a ferocious witch, although according to the stories, the most common way for him to do the magic was healing people. Maybe the "ferocious" meant that he fiercely fought back against illnesses and tried to cure people in his own way. Iisak knew various magic and healing concepts and he knew how to make medicines from plants. He also took care of the mentally ill, falls and rheumatic patients with a wooden steam cabinet.
At that time this kind of witchcraft was practiced somewhat in the North and it wasn't unheard of that some men were called wizards. What was quite uncommon was the tale that said that Iisak drove with his sleigh through Alatornio's church on the dark fall night, without a sled. This famous sleigh is on display in the Tornio Valley museum and on it sits a dark figure which presents the famous Iisak. Although he was a famous witch, he did not want to share his witch teachings with his offsprings. It is said that he thought that people do not need witchcraft lessons, and in his own words "those lessons are just a way to hell".
5. Russian barrack – High School – Grand Hotel
The old red-brick building in central Tornio has a colorful history and story that is three years longer than the history of independent Finland. Today the building is a hotel called Grand Hotel Mustaparta, but its story starts in 1914. It was originally built to be a barrack for Russian soldiers, when Russia wanted to strengthen its military force on its western border on the eve of the First World War 1914.
After Finland became independent on December 6, 1917, the barracks was initially turned into a prison for Russian soldiers. At this point, in addition to the red-brick main building, the barracks consisted of five wooden buildings. In 1921-1922, the barracks were renovated into a school building, where the high school began operations in the fall semester of 1922.
The high school was renamed the Tornio Community School in 1927, and the school building was renovated and expanded in 1928-1929 and 1934-1935. In the latter large extension, a three-story extension was built. It was essential that at this point the memories of the Russian-style barracks were erased with a white plaster in accordance with classicism.
In World War II the building became a military hospital for German soldiers. The story is told that the machine guns of the Germans who were staying in the building were never found. The caretaker thought they had been dropped into a large opening in the ventilation equipment on the top floor. This riddle has not yet been solved even to this day.
After World War II, the building was returned to school once again, and the buildings and its courtyard reached the outlook of what the Grand Hotel is known today. The building was in school use until 2015 and most of the citizens in Tornio have had their education there once in their lifetime. The building remained in Finland's more recent history in autumn 2015 as an organization center for asylum seekers.
6. War profiteers and German Quarter
HaparandaTornio had never been this important when WWI broke out. Exchange of war prisoners and the posts from Europe to Finland, Russia or even Asia had to pass through HaparandaTornio since here was the only open border cross between East and West. The name of restaurant Gulasch Baronen comes from the Swedish phrase meaning a person who made a fortune out of the war. In 1917, Germans sent Lenin from the Alps back to his homeland Russia via Haparanda. He checked in at Haparanda stadshotell before his next journey to overthrow the Tsarist regime. If you want to enjoy fine dining and have a taste of history, you should definitely make a reservation here. While Gulasch Baronen was a place where all revolutionists, spies, agents and soldiers met. During WWII, across the Torne River, local people called the neighborhood near Tornio Railway Station "Pikku Berliini" (Little Berlin). It was common to see German officers walking on Haparanda's street as well back then. Today, there's a German style pub also called Pikku Berliini, which is situated right in the middle of the city. 
Haparanda stadshotell: Torget 7, 953 31 Haparanda, Sweden
Pikku Berliini: Hallituskatu 11, 95400 Tornio, Finland
7. Well known local War Photographer and activist Mia Green
Mia Green was a Swedish photographer and she documented the history of HaparandaTornio area, particularly during the First World War. She was also involved in the local suffrage association and in creating care for the elderly.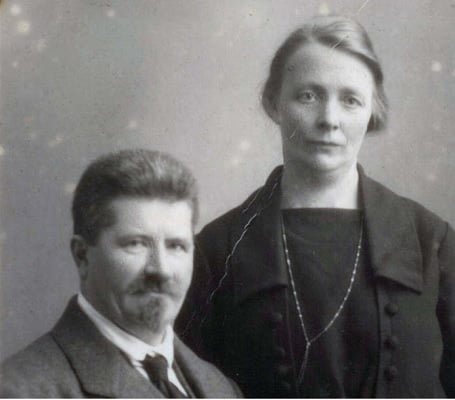 She was known for the photographic record that she created during the first world war which included Red Cross sisters and war invalids. In 1918 she recorded a typhus outbreak in Haparanda. Her pictures recorded notable politicians, opera singers and nobility as well as revolutionaries, spies and smugglers. She is also remembered as a huge women's rights activist, heading the Haparanda branch of the National Association for Women's Suffrage which was founded in 1907. In 1913, she served as a member of the organization's central executive. Under the local branch, efforts were also made to help the many refugees passing through the town. On the political front, she was elected to the town council, representing the conservative party
In Haparanda there is a Park named after her memory.
8. Automobile Expedition to Arctic Circle
The founder of the modern travel agency Thomas Cook once said, "Those who were really well-travelled would surely have set foot in Timbuktu, Samarkand and Haparanda". A few years after he passed away. American Charles Glidden became the first person to cross the arctic circle by car. The initial plan was traveling from England to Ireland then through Denmark and continuing his road trip to northern Norway. However his permit was canceled right before he made his way to Norway. He ended up driving through Sweden and towards Torne Valley. He came to Haparanda on 23rd of August, 1903 according to the New York Times' report. "A cablegram was received in Boston a few days ago from Mr. and Mrs. Charles Glidden of that city, stating that they had arrived at Haparanda, Sweden, just within the arctic circle, on the previous Sunday." Although Haparanda is not in the arctic circle, it is fairly close. He also told a Swedish journalist that the best road he drove was between Gävle and Luleå and he described the roads in Torne Valley as "wave-like". Apparently, he went even further north other than just Haparanda since it is as flat as a pancake here. We have mentioned in another article that it's really easy to get around by bicycle.
Find out more about travel here: How to Get to HaparandaTornio from Stockholm
9. Uprising on Summer paradise 
Seskarö is a beautiful island located 25 km southwest of Haparanda. Today it's a popular summer vacation destination with white sandy beaches and many small biking/ hiking trails around the island. It might be hard to imagine there were nearly 3000 inhabitants due to the sawmill on this pearl of archipelago. During WWI, followed by the revolution in Russia and rationing in 1917, sawmill workers had hard time with their heavy labors because of the food shortage. And that winter was way too long, the sea was still frozen by may. You have to know that the Seskarö Bridge was not built yet and all the passenger and good transport is by boat. Since many of the sawmill workers went to work hungry. Finally a riot went on for days and even the policemen and soldiers were sent to the island. Thousands of people got involved in the rebellion. At the end, the governor of Norrbotten Walter Murray came with a boat loaded with food. Although the riot came to an end, about 1/10 of workers were fined or put in prison. Today, there's a memorial stone marks "the crime was hunger" erected next to the HANDLAR'N grocery store. If you're interested more about the history, come visit Seskarö and you can even stay by the beach.
Seskarö Havsbad & Camping: Tromsöviken, 953 94 Seskarö, Sweden
10. The Legendary Smuggling King 
We couldn't talk about the history of HaparandaTornio without mentioning Erik Innala, AKA Mabou Erik. Erik was born on a farm in Haparanda and he had worked with different kinds of jobs. He started his "business" during WWII when Sweden began rationing foods that there would be enough for everyone.  Mabou was one sort of a coffee substitute during that time. His job was exporting Mabou secretly from Sweden to Finland. Yet often he loaded his boat with fresh salmon from the other side of the border then sold them in Sweden. Over time, Erik made his name and fortune in HaparandaTornio and he also founded Polarica and the first ICA supermarket branch in Haparanda. Today, Erik's grandchild is still out on the sea running cruises to different islands in our archipelago.
Extras:
Because it was so difficult to narrow down only 10 interesting facts about our twin cities! Here is couple of extras:
Did you know that Tornio was the northernmost city in the world for 168 years?
Did you know that Haparanda is 200 years younger than Tornio?
And the cherry on top, did you know that back in the old days, the local women were really desired "wife material" in southern Sweden? It was said that the women of our area were (and still are) very independent, handy and "clever". They were called "kätevä emäntä" which means "handy housewife/mistress".